Woman cries out after her husband claimed he 'mistakenly' impregnated his side chick
A married woman has taken to social media to seek for help after she learnt that her husband of ten years impregnated his side chick…..CONTINUE READING…CONTINUE READING
The lady, who disclosed this in a Facebook group said that her husband claimed that he 'accidentally' impregnated the side chick.
She said that the husband had been unfaithful to her for two years and started acting remorseful after she found out he was expecting a baby.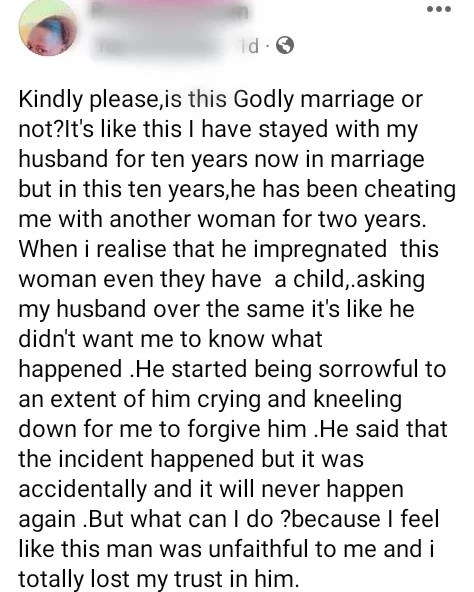 She said that because the man had lied to her, she was perplexed and could no longer trust him.
She wrote;
"Kindly please, is this Godly marriage or not? It's like this I have stayed with my husband for ten years now in marriage but in this ten years, he has been cheating me with another woman for two years. When i realise that he impregnated this woman even they have a child,.asking my husband over the same it's like he didn't want me to know what happened. He started being sorrowful to an extent of him crying and kneeling down for me to forgive him .He said that the incident happened but it was accidentally and it will never happen again. But what can I do ?because I feel like this man was unfaithful to me and i totally lost my trust in him."…..CONTINUE READING